The Ministry of Home Affairs informed the Rajya Sabha on Wednesday that the total number of psychiatric patients in the Central Armed Police Forces (CAPFs)has increased from 3,584 in 2020 to 4,940 in 2022,  an almost 38 per cent spike in reported psychiatric cases.
Union Minister of State for Home, Nityanand Rai, said the CAPFs – such as Border Security Force (BSF), Sashastra Seema Bal (SSB), Central Reserve Police Force (CRPF), Indo-Tibetan Border Police Force (ITBP), Assam Rifles (AR) and Central Industrial Security Force (CISF)  are availing services of psychiatrists, clinical psychologists and counsellors in liaison with other government and medical institutions. "There are five psychiatric doctors in ITBP, four in BSF, three in CRPF and one each in SSB and AR," Rai said.
According to Rai, 3,864 cases were  reported in CAPFs in 2021. "There were  a total of 1,470 psychiatric patients in CRPF in 2020, 1,506 in 2021 and 1,882 in 2022. In BSF, there were 1,073 patients in 2020, 1,159 in 2021 and 1,327 in 2022, while Assam Rifles had 351 patients in 2020, 509 in 2021 and 530 in 2022. In CISF, there were 289 patients in 2020, 244 in 2021 and 472 in 2022. ITBP had 215 patients in 2020, 300 in 2021 and 417 in 2022. And in SSB, there were 186 patients in 2020, 246 in 2021 and 312 in 2022," he said.
Sharing the break-up of 658 suicides since 2018 to 2022, Rai said 230 personnel took their lives in CRPF, 174 personnel in BSF, 91 personnel in CISF, 65 personnel in SSB, 51 personnel in ITBP and 47 personnel in AR.
Rai said a number of corrective measures were being taken by all CAPFs.
"Detected cases  are being properly treated and if required, cases are referred to specialists in well-equipped hospitals for detailed investigations.  Periodic follow-up is done, records of each personnel's health is kept and reviewed from time to time. Yoga has been made a part of physical training to reduce stress and anxiety, paramedical staff at the unit level identify cases at the earliest and initiate early intervention and treatment.  Stress counselling of personnel is being carried out at all levels as well as at Border Out Posts (BOPs)," he added .
Most Read 1 Gadar 2 box office collection day 4: Sunny Deol film records biggest Monday collections of all time, nets a total of Rs 173 cr 2 Bigg Boss OTT 2 Finale Live Updates: Elvish Yadav wins Salman Khan's show, Abhishek Malhan shares message from hospital 3 Happy Independence Day 2023: Wishes Images, Whatsapp Messages, Status, Quotes, and Photos 4 OMG 2 box office collection day 4: Pankaj Tripathi-Akshay Kumar film delivers better Monday than opening Friday, earns Rs 55.1 cr 5 Jailer box office collection Day 5: Rajinikanth film set to cross Rs 350-crore mark worldwide on Independence Day
Rai also spoke of  steps to improve working conditions. "Transparent policies pertaining to transfer and leave of CAPFs and AR personnel, and choice posting to the extent possible is given after the personnel has served in hard areas. Living conditions for troops have been improved and adequate recreation and entertainment, sports and communication facilities etc., are being  provided," he said. Art of Living courses are also  being conducted.
AdvertisementALSO READ | No woman has yet qualified to join the military's special forces: Govt to LS
Minister of State for Home Affairs, Ajay Kumar Mishra told the Rajya Sabha that Ministry of Home Affairs (MHA) and its organisations, including CAPFs and Central Police Organisations, such as Delhi Police, have  over 1.14 lakh vacant posts.
Also Read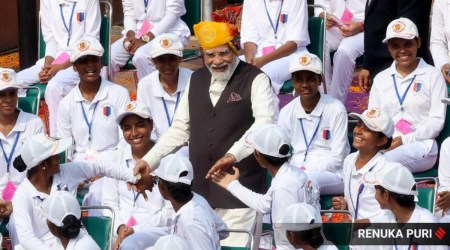 Narendra Modi Independence Day Speech Live Updates: India now identified ...
Govt SOP for Judges: Do not name officials for court panels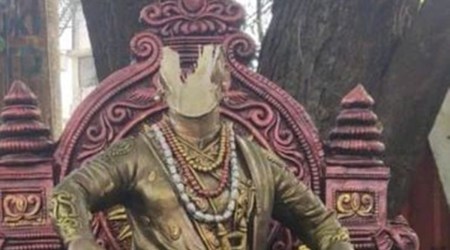 Shivaji statue vandalised in Goa, police initiate inquiry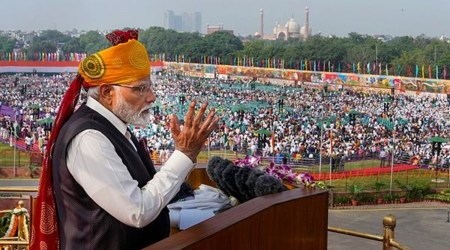 'Will return to Red Fort next year': In Independence Day speech, PM Modi ...
Post pandemic, the number of personnel opting for voluntary retirement has seen a massive spike. "In the CAPFs, 9,228 personnel took voluntary retirement in 2018, 8,908 personnel retired in 2019, 6,891 personnel in 2020, 10,762 in 2021, and 11,211 in 2022," Rai informed the Lok Sabha on August 1.
© The Indian Express (P) Ltd