Japan's Foreign Minister Yoshimasa Hayashi has met External Affairs Minister S Jaishankar in New Delhi and the two countries have started coordinating their positions in an attempt to frame a consensus document for the Summit of the G20 leaders, sources have told The Indian Express.
Japan's role is crucial since it currently chairs the G7 grouping which has been the most vocal over Russia's invasion of Ukraine.
As the G20 chair, India is working with Japan and other G7 countries on the one side, and Russia-China on the other side to formulate the G20 leaders' declaration in Delhi.
India wants the Delhi declaration to be a consensus document, and not a chair summary. The meetings of G20 Foreign Ministers and Finance Ministers have been coming up only with a chair summary, which is not a consensus document.
Speaking at the India-Japan Forum organised by Delhi-based think tank Ananta Centre Friday, Foreign Minister Hayashi said, "Japan emphasised at the G7 Hiroshima Summit… to uphold the free and open international order based on the rule of law. The leaders of the G7, invited countries including India, and Ukraine discussed peace and stability of the world, and agreed on the point that unilateral attempts to change the status quo by force cannot be tolerated anywhere in the world. They also agreed on the significance of the rule of law and the principles of the United Nations Charter."
"At a time when there are many pressing challenges including Russia's aggression against Ukraine, Japan and India fully share the necessity to lead the world to cooperation, rather than to division and confrontation," he said, adding that "Japan is very much eager to continue working hand-in-hand with India towards the success of the G20 New Delhi Summit."
This is the first indication that the two countries are working together in the run-up to the G20 Summit on September 9-10.
Advertisement
Hayashi also said, "The free and open international order based on the rule of law is key to realising such a world. To elaborate on this concept, 'free' means each country is free to make decisions based on its own sovereignty. The rule of law is essential for countries to enjoy such freedom. 'Open' means respect for principles including inclusiveness, openness, and diversity. It is vital that we refrain from imposing values or excluding certain countries."
"This concept is especially crucial for smaller countries. In coordination with India, Japan intends to materialise such concept through realising a 'Free and Open Indo-Pacific' or FOIP," he said.
Jaishankar, who also spoke at the India-Japan Forum, said, "I would like to step back and really underline the point of history which is that the Indo and the Pacific got really separated in 1945. It got separated because the dominance of the United States actually put the Pacific into particular spotlight because you had the Japan relationship, you had the events in China in the late 40s, you had the Korean War, you had the Vietnam War. So what happened was that it became for the United States a theatre all by itself. And today, as the world is globalising, as the US itself feels the need to look for more partners, we are seeing the return to history… the natural seamlessness between the Indian Ocean and the Pacific Ocean, I think, is today creating what is increasingly accepted as the concept of Indo-Pacific. In fact, I was very happy that at the East Asia Summit this time… all the countries today recognised the validity of the Indo-Pacific."
Advertisement
On Quad, Jaishankar said, "Quad is the ability for countries in alliances to keep their alliances, but to look beyond alliances. And it is this, I would say, a leap of strategic imagination which actually the leaders and the governments of Quad have shown."
Hayashi and Jaishankar met Thursday evening for two-and-half hours, Yukiko Okano, Deputy Press Secretary of Japan's Foreign Ministry, said.
She said China was discussed as was the Ukraine issue during their conversation.
At a briefing in Delhi, she said: "I think our position will remain the same as G7 countries, whichever forum we would voice  our concerns and our objection relating to Ukraine."
"When it comes to the joint communique, it is really up to the presidency how to reach a consensus. So I would prefer not to comment on the path forward. This is in the hands of the Indian presidency," Okano said.
Advertisement Explained
G7's tough line
Meetings of foreign and finance ministers of the G20 countries have so far failed to come up with a consensus document given the divisions over Ukraine, especially by the G7 which has taken a hard line against Russia.
"Minister Hayashi welcomed the active multi-channel dialogue, including between the leaders of Japan and India and the ministers for foreign affairs. He affirmed that the two countries would continue to adjust high-level points of contact in the future," she said.
"Both ministers affirmed that they would continue to advance cooperation in the field of defence and security such as equipment cooperation and defence exchanges," Okano said.
Most Read 1 Gadar 2 box office collection day 4: Sunny Deol film records biggest Monday collections of all time, nets a total of Rs 173 cr 2 Bigg Boss OTT 2 Finale Live Updates: Elvish Yadav wins Salman Khan's show, Abhishek Malhan shares message from hospital 3 Happy Independence Day 2023: Wishes Images, Whatsapp Messages, Status, Quotes, and Photos 4 OMG 2 box office collection day 4: Pankaj Tripathi-Akshay Kumar film delivers better Monday than opening Friday, earns Rs 55.1 cr 5 Jailer box office collection Day 5: Rajinikanth film set to cross Rs 350-crore mark worldwide on Independence Day Advertisement
She also said that the ministers concurred that the Japanese and Indian public and private sectors would work together toward the target of 5 trillion yen in public-private investment and loans to India over the next 5 years. This goal was set by both countries during Prime Minister Fumio Kishida's visit to India in March of last year.
According to Okano, Hayashi sought cooperation to improve the investment environment. He also met executives of Japanese companies in India, who sought their desire for a stable, transparent and predictable business environment in terms of tax and legal issues.
Also Read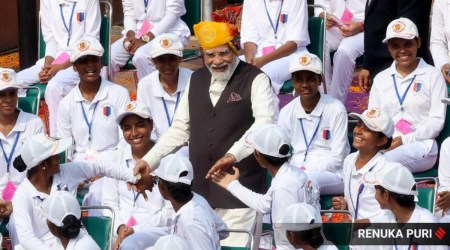 Narendra Modi Independence Day Speech Live Updates: India now identified ...
Govt SOP for Judges: Do not name officials for court panels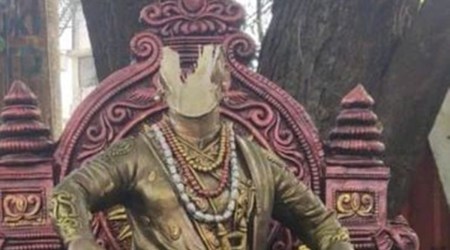 Shivaji statue vandalised in Goa, police initiate inquiry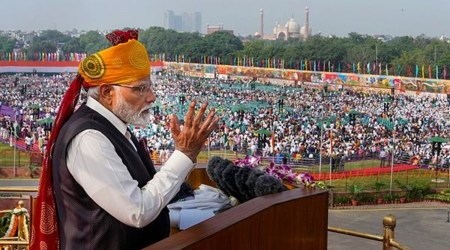 'Will return to Red Fort next year': In Independence Day speech, PM Modi ...Advertisement
"The two ministers affirmed that they would continue to make steady progress on the high-speed rail project, a flagship project of Japan and India. Minister Hayashi also stated that he would advance cooperation for the development of Northeastern India, which Prime Minister Modi places importance on, and to advance projects that contribute to regional connectivity. Minister Jaishankar stated that he would like to continue to work closely with Japan," she said.
© The Indian Express (P) Ltd